Home | BBQ Walkthroughs | Grilled Bacon Wrapped Shrimp
Grilled Bacon Wrapped Shrimp:
Bacon wrapped shrimp thrown on the grill is one of the best things to happen to carnivores since meat itself.
It's not a difficult meal to cook; it just takes a lot of preparation.
For this walk-through you'll need:
1lb of medium to large shrimp butterflied
A package of bacon
Cheese of your choice cut into 2 inch strips (Munster used here)
Garnish of choice (Pineapple and shallot onions)
Melted garlic butter
Toothpicks or bamboo skewers
Start with the shrimp. If they are not already butterflied, go ahead and do that by making a slit down the backside of the shrimp. Put them aside in the cool place, either the refrigerator or I use a bowl of ice.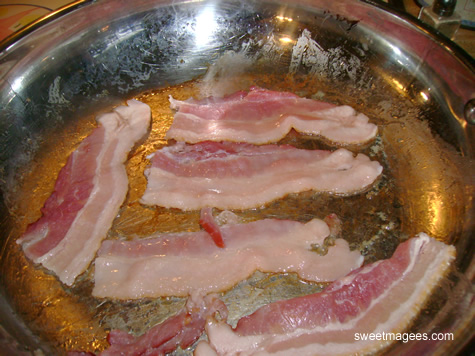 I precook the bacon for a few minutes. This helps to ensure that the bacon gets fully cooked on the grill and it makes it crispier as well. Make sure not to cook the bacon too much as you need it to still be able to wrap around the shrimp.